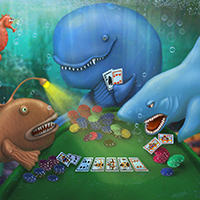 Whether you consider No Limit Hold'em, Pot Limit Omaha or virtually any other variant of the game, online poker is very different from its classic, live counterpart. This statement might seem completely counter-intuitive at first, especially since the rules remain essentially the same, but it becomes quite obvious once you take a closer look at how each of those games is played. This site will take a look at the very best real money poker sites, as well as background of the game, history and a whole lot more.
In live poker, each player is seated at a single table even during big tournaments and the players aren't separated from each other by a rather arbitrary user interface. Consequently, they interact with each other on a human level to a greater extent, which means that reading tells and understanding the psychology of your opponent becomes extremely important.
What's more, those games are often played in quite hermetic communities, so people tend to get to know each other, which makes for a completely different set of table dynamics. Online poker is pretty much the antithesis of everything I wrote above; the players remain anonymous, they interact with each other through poker software, they can play as many tables as they want at any given time and the player pool is so massive that making notes on other players starts being useful only after a couple of months of work, unless you're playing high stakes with a group of hardcore regulars.
Therefore, online poker tends to focus more on probability and following the right strategy instead of assuming a personal approach and trying to get into the head of your opponent. What's more, real money poker online allows you to play a massive number of hands when compared to playing in a brick and mortar casino, which has an extreme impact on your profits if you're a winning player.
History of Online Poker
What I've written above wasn't always true – or at least wasn't true to such a great extent. The beginnings of online poker were rather humble and the game was considered to be inferior to its live version due to the complete domination of mostly live Star players in major events such as the World Series of Poker. This all changed in 2003, when Chris Moneymaker – a previously unknown online player – managed to win the World Series of Poker Main Event.
This single event changed the face of online poker forever, as hundreds of thousands of people all over the world believed that they can replicate Moneymaker's success while playing from the comfort of their homes. Online poker traffic stats soared on every major website and what used to be a stable, rather quiet business only a year earlier became a booming multi-million dollar industry with a growing group of professionals earning their living mainly by playing online cash games and tournaments.
Everything was going better than expected until 2011, when the United States government cracked down on three of the major poker rooms – PokerStars, Full Tilt Poker and Absolute Poker, accusing them of violating the Unlawful Internet Gambling Enforcement Act and money laundering. Unfortunately, some of the charges turned out to be true, leading to the closure of Full Tilt in the atmosphere of scandal, which really hurt the traffic and the overall image of the game.
Thankfully, the industry managed to recover since then and with the re-launch of Full Tilt Poker under new ownership back in 2012 everything returned back to normal; the traffic statistics are as high as ever, the tournaments once again offer life-changing prizes, and all the top poker sites strive to outdo their competition in terms of providing lucrative bonus offers for new customers. Some traces of the past scandal still remain though, as a significant number of countries enforced stringent gambling laws to regulate the market, leading to the creation of a number of separate player bases operating outside the global pool.
Legality of Internet Poker in the 21st Century
As a result of the above, the number of US-facing poker sites has dropped down significantly with plenty of top poker rooms refusing to accept American players due to legal restrictions. Fortunately, that doesn't mean that citizens of the United States are left with no ways to play, as sites like Bovada and Bodog are widely known for allowing them to join the action at their tables.
What's more, the legal situation seems to be getting better, as numerous states including Nevada have begun opening up their own local poker markets, which will undoubtedly lead to the emergence of new sites, albeit with separate and rather limited player pools. This problem of small, regional player pools is also quite pervasive in Europe, as countries like Spain and France have developed their own regional poker markets, which don't really do as well as the global industry.
The main issue here lies with the fact that one of the greatest advantages of playing online is being a part of the biggest player pool in poker history – consequently, players specializing in obscure poker variants aren't forced to play popular games like No Limit Hold'em to turn profit, while the tournaments have significantly higher prizes and are more frequent. Another problem is the taxation, as unreasonable gambling taxes may easily turn a winning player into a break-even or even losing contender. As a result, numerous poker pros have been forced to migrate to countries that don't employ such strict regulations, such as United Kingdom, Mexico or Russia.
Nevertheless, the global online poker industry manages to thrive despite those setbacks and the game is becoming more and more popular in regions that weren't really known for their love of poker in the past, such as South America and Asia. All in all, in spite of the restrictions described above, there's never really been a better moment to pick up the game regardless of where you live.
Popular Variations of the Game Today
As briefly touched on above, every conceivable poker variant is represented in the online poker scene. Quite obviously, No Limit Texas Hold'em is most popular and generates most of the online traffic – but if you want to play Pot Limit Omaha, Razz or 7-Card Stud, you won't have any troubles finding an appropriate table with the major poker rooms like PokerStars, Full Tilt Poker, Party Poker or even Bodog and 888.
All the games can be played with different stakes, which are classified into micro, low, mid and high. What's more, every site offers a different tournament package with cyclical events that are usually held on the weekends and attract thousands of players, generating millions of dollars in prizes to be distributed between the lucky winners.
Aside from those tournaments, players can take part in standard full ring or short-handed cash games or enjoy smaller single table tournaments in Sit & Go or Double or Nothing formats. Another version of poker which is definitely worth mentioning is Fast Fold Poker – is a relatively new invention and has been introduced by PokerStars at the beginning of 2012. Unlike in standard cash games where players are free to pick their tables, in Fast Fold Poker you become a part of a massive player pool and you're automatically assigned to a new table whenever you fold or finish your current hand.
As a result, Fast Fold Poker is extremely fast-paced and aggressive, making it best suited for short gaming sessions. Finally, if you'd like to experience the thrill of playing serious online poker without making an investment, you can always sign up for a freeroll tournament. Those tournaments are held by every major poker room and give you the chance of winning real money without paying the usual entry fee. In fact, plenty of successful player began their online careers after multiplying the free money they won at such events.
Online Poker Traffic
According to PokerScout – the most reliable statistical resource in the poker world – traffic on all major poker sites is measured in the tens of thousands of unique users playing online at any single time – even more during the peak hours or major weekend tournaments. The lion's share of every player pool is almost always concentrated around Texas Hold'em cash game tables, but that doesn't mean that single-table tournament fans will have problems finding opponents to play. This holds true even for smaller poker sites, as unlike PokerStars or Full Tilt they tend to operate as a part of larger poker network, which means that they share the player pool with other sites they have ties with.
The rooms belonging to a larger network are often referred to as skins, so don't get confused if you stumble upon this term – generally speaking, it simply means that you'll have a higher number of opponents to pick from. Choosing the right poker site isn't just a matter of opting for the one with the highest traffic, as some of the low-traffic networks are well known for significantly softer competition; as a matter of fact, I'd advise beginners to consider giving some recreational player-friendly rooms like Bovada and 888 a try, especially since it's way easier to turn a profit there unless you're playing high stakes or concentrating on tournament action. The rule of the thumb here is that the lower the traffic, the less skilled the players are. Try to balance those two factors for the best new user experience.
Mobile Poker
Most players use desktop computers like PC and Mac to play online poker, but that's not really the only way of joining the action at the tables. The recent developments in mobile device technologies have made it possible for the major companies to develop interesting iPhone, Android and Blackberry poker apps, which are available for free at their websites. It's important to remember that those apps won't perform as well as desktop-based clients due to obvious hardware limitations.
The usual issues include the complete lack of any multi-tabling support or a small selection of available games, as most of those software packages tend to focus on Texas Hold'em cash games. Nevertheless, the more complicated features and game modes are surely going to get introduced as hardware becomes more capable, especially since the recent releases from sites like Ladbrokes, 888 or PKR allow their customers to enjoy Fast-Fold Poker or simple single-table tournaments on the go.
Aside from several small mobile-exclusive sites like mFortune or SwitchPoker, playing on a mobile poker app allows you to compete against desktop-based players, which means that finding opponents shouldn't ever be an issue, even if you plan on playing during really odd hours.
Online Poker Bonuses
Bonuses and promotions are an extremely important aspect of the online poker industry, as they enable players to literally multiply their bankrolls with a minimal investment. Generally speaking, players are able to choose between receiving a small sum of money completely for free for signing up at the site, and a considerably higher amount of cash for making a deposit.
The former are called no-deposit bonuses and are the harder of the two to get, as usually they're offered by third party affiliates instead of the poker rooms themselves; there are also certain country limitations in place, so make sure to read our reviews to make sure that you are eligible for a no-deposit bonus.
Welcome bonuses, which become available after making a deposit and entering an associated promotional code, are known as first deposit bonuses and can go as high as $2,000 or more. You have to remember though that most of the times you won't receive the full amount as soon as you register at the site and make a payment, as most poker rooms will require you to clear the bonus in predetermined increments by accumulating your particular room's own brand of VIP points.
Aside from clearing your initial bonuses, those points can be used to unlock gifts, purchase tournament tickets, receive some of your rake back, and take advantage of other promotions. Such loyalty programs make sticking to one or two rooms a rather tempting idea, so you should carefully consider every site and read our reviews before making the final choice.